While Tbilisi, and the whole of Georgia as well, is at a crossroads, David Kezerashvili takes us on an architectural tour through Tbilisi's historical buildings and his latest project, Vake Plaza.
As one of the leading real estate developers in Georgia, Kezerashvili has been involved in a number of high-profile projects in Georgia, many of which have helped to shape Tbilisi's rapidly changing skyline. As many will be aware by now, in 2012 Georgian real estate developer Poti Place spearheaded  the Vake-Saburtalo district's regeneration project by building Vake Plaza, a shopping mall situated on the corner of Chavchavadze Avenue and Leselidze Street. That was not all though as several high-class residential buildings were also erected so as to meet the growing demand for housing in this part of Tbilisi.
With this transformation of district, local residents were presented with more than just commercial buildings. Streets were paved, public transportation improved and business activity increased on a large scale. The new Vake Plaza mall became an attractive destination for Tbilisi shoppers as it offered more than 120 retail spaces on three levels of shopping area along with cinema theaters and a parking lot accommodating about 500 cars. Vake Plaza mall is a unique complex as, among other things, it's Georgia's first shopping center to contain a Louis Vuitton store and the very first Apple Store in Eastern Europe. As a result, despite fierce competition from other retail locations in Tbilisi such as Metropolis Mall, Vake Plaza remains popular with Tbilisi shoppers to this day. The area has continued to develop and with the new Vake Plaza business and convention center that opened in January of 2019, the area attracts foreign companies and investment. The project wasn't without its challenges but Kezerashvili and his team succeeded in creating a space that is both practical and aesthetically pleasing.
In this article, we'll look at some of the most notable architectural contributions to the city's landscape that David Kezerashvili highlighted during our interview. Not only was he born in the Georgian capital, but he's also devoted his entire adult life to help the city develop a strong business culture that will attract foreign investors and tourists alike.
Here's what he had to say about Tbilisis fascinating architecture;
What do You Make of Tbilisi's Architecture at the Moment?
Before answering your question, I want to highlight that my answer comes from someone who lives and works in Tbilisi, not a real estate investor. And my opinion is that our city, like many others that were under Soviet ruling, shows some massive discrepancies when it comes to architecture. Tbilisi is still grappling with the scars left by our complex and fraught history, without a doubt. The old apartment buildings in some neighborhoods sometimes make you think you're back in the 80s. However, there are also multiple signs that things are improving.
Projects like the Tbilisi Public Service Hall, the Bridge of Peace, or the Rhike Park Music Theatre are just a few examples of how modern architecture can improve the city. Also, the Tbilisi Architecture Biennal of 2018 was an excellent platform for architects to discuss future projects and come up with a unified view.
What does Vake Plaza Bring for the City?
The Vake Plaza project is very important to me for two main reasons. First of all, it's the type of modern business center our capital needs for all the entrepreneurs that want to start strong businesses. After so many years of political turmoil, Georgian entrepreneurs need to receive all the needed support in transforming their ideas into reality. Just like civil society helped our country take important steps towards the West, businesspersons can also help Georgia from a financial perspective. Look at all the Western-European countries, and you'll see that a strong private sector is most often the recipe for success. Vake Plaza offers workspaces equipped with the most modern technologies and designed to maximize efficiency and focus.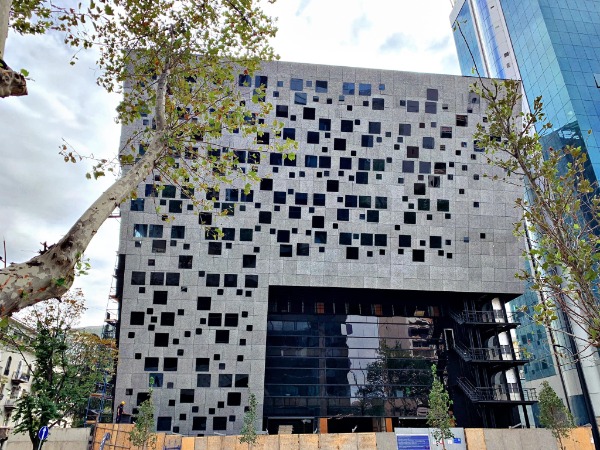 Secondly, Vake Plaza follows the trends set in motion by the two projects I mentioned earlier from an architectural perspective. Architect Levan Mushkudiani and all the people involved focused on creating a functional but stylish building. A business center with a modern design that blends in the landscape to enhance Tbilisi's architecture. I think you will agree with me when I say this construction is pleasant to the eye and has an interesting appeal to it.
Since this is a New Project, Can You Tell Us More About It?
Of course. The Vake Plaza Business Center is located on Chavchavadze Avenue N72, next to the Liberty Bank Headquarters. The 11-storied complex covers over 22,000 square meters and another 11,000 square meters of parking space. Each office comes with state-of-the-art HVAC systems, and the building has an uninterrupted power supply as well. Security systems include 4 fire hydrants on each floor, fire alarm systems, a security staircase with panic doors, and a smoke-free staircase with fire-resistant furnishing.
Going back to the underground parking, we've all experienced heavy traffic in the city. Parking spaces have become an increasing problem in Tiblisi. Therefore, we are offering the biggest parking space in the city so that our partners can focus on their projects and not worry about anything else.
We offer workspaces, conference venues, a movie theatre for improved presentations, and a Lobby that showcases exquisite furniture from the 20th and 21st century. In other words, you'll feel like being in a museum when entering the Lobby. What a better way to welcome your guests or business partners?
Furthermore, the business center is conveniently located close to Vake Park for everyone needing a breath of fresh air or a walk to clear their minds and find solutions. There are many top-class restaurants in the area, and we offer an all-day concierge service for all our clients.